Fountaine Saona 47
Our Fountaine Pajot 47 "Nocrala" shipowner version manufactured in 2018, is a luxurious catamaran of cruise. With its 14 meters in length and 7.70 meters in width, it represents excellence in luxury and comfort. offering all the possible extras in a boat. Equipped with 3 cabins with individual bathroom of Italian design and electric toilets, one of them suite, extremely bright and cozy convertible lounge and 2 hutches for the crew. Air conditioning, individual in cabins and saloon, desalination plant so as not to have to go to port to refuel fresh water, generator to have 220v independently, 220v inverter, 3 fridges, freezer, Gas oven, microwave, coffee maker, bose stereo with bluetooth, TV in living room and cabin main, snorkel equipment, paddle surf and hydraulic platform. Equipped with 2,000w in solar panels, which make it have a total autonomy in conditions optimal sun. Avoiding the ignition of the generator, when the boat is not sailing. It incorporates a 5.5m2 fly bridge, with perfect visibility at the command post and a large solarium in the stern and another in the bow that allows you to relax and enjoy the sun as well as in space for game for the little ones. The bathtub, well protected from the sun, communicates at the same level with the kitchen. Highfield dinghy with 25hp engine. And so that your gastronomic experience on board becomes unforgettable, hire our chef. The best way to enjoy with family or friends, a dream vacation in the environment paradise of Ibiza and Formentera, a key place for boat rentals, being a main destination for worldwide recognition.
Characteristics:
Capacity: 11 passengers + 1 crew
Sleeping capacity: 8 guests
Cabins: 3 (3 doble cabins)
Fuel: 4 ltrs/hour cruise (aprox)
Inverter 12/220 V GPS Plotter Garmin Pantalla 12" interior y exterior Embarcación auxiliar HighField 3,50m con puesto mando, motor 25 CV Piques de proa habilitados para tripulación Bienestar: Potabilizadora agua de mar 200 l/h Depósito de agua 700 l Plancha para cocinar en bañera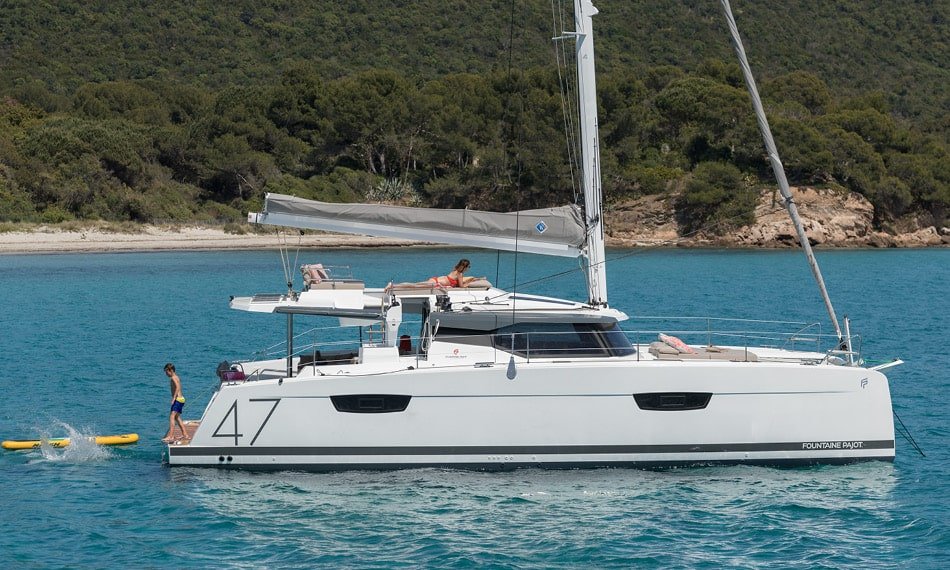 ---
CHECK PRICES AND AVAILABILITY
Send us your inquiry, and we will respond as soon as possible.