We have already told you many things about Ibiza, that if you have had the opportunity to visit it you will have been able to see with your own eyes. The beauty of the Mediterranean Sea bathes the shores of this Spanish region, which has been designed for enjoyment. From the perfection of nature to human intervention, the White Island is an ideal destination for that first-rate vacation you deserve.
And without a doubt, touring Ibiza by boat is one of the best ways to explore the island, reaching unforgettable and magnetic corners. Today we want to tell you about one of our favorite beaches, Cala Benirrás.
Located in the north of the island, this beach is one of the most popular in the region, and you will surely have seen it on postcards. But do not be fooled. Enjoying it with your own eyes is definitely over the top. Framed between mountains and pine forests, this small bay is sheltered from strong winds, and blessed with full sunlight throughout the afternoon.
But beyond its scenic beauty, Benirrás has other particular charms that make it unique, and make it one of our favorites. Let's see what they are.
Benirrás … a paradise of hippie energy
Enjoy the Drum Party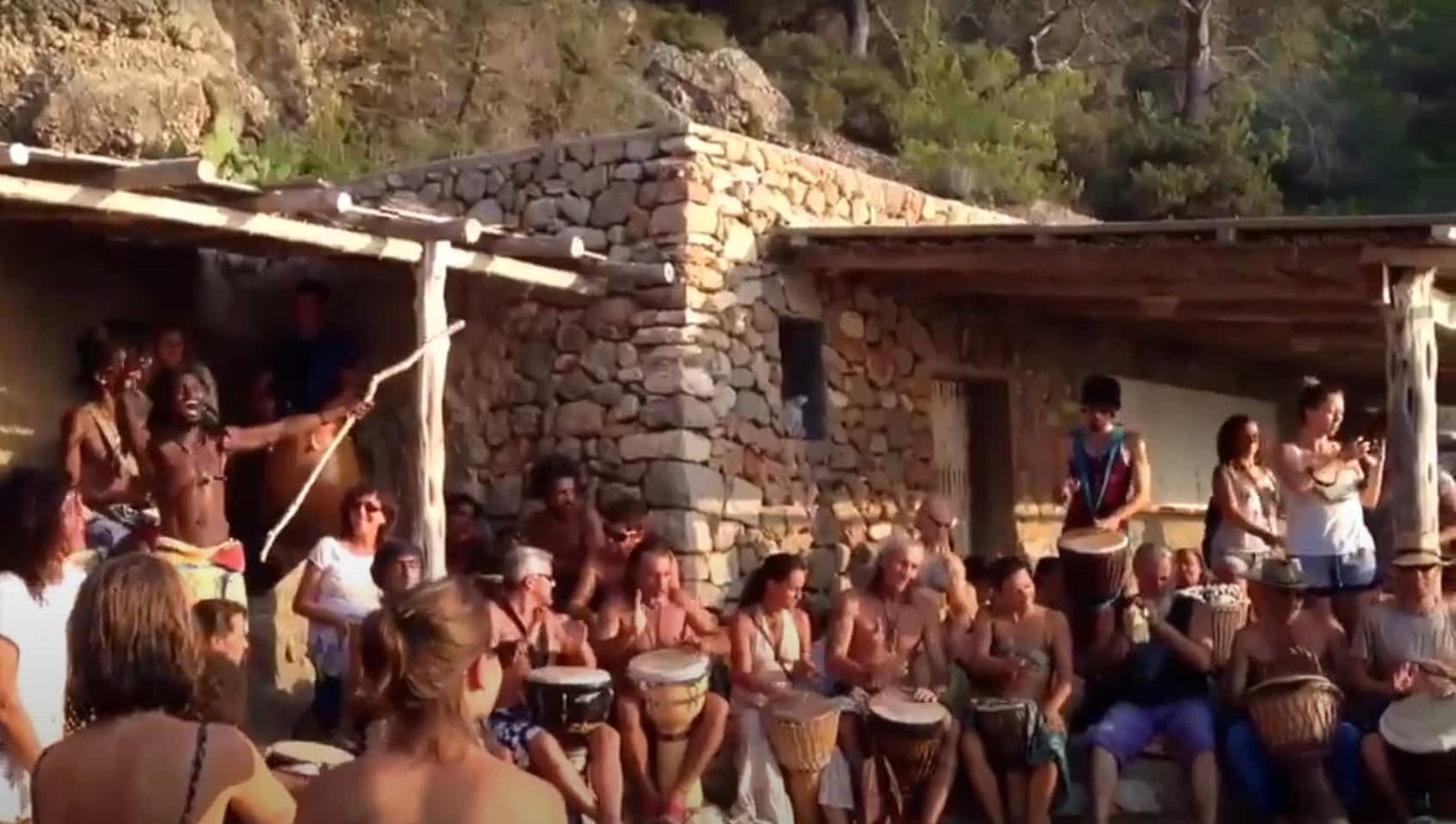 We have already told you that the landscape of this Spanish cove is charming, but what has made it one of the most popular spots in Ibiza is its sensational drum party.
Every Sunday Benirrás beach fills with energy and flavor. The hippie atmosphere takes over the scene and the typical music of the drum party begins. If you go by car, try to arrive very early, as it is very difficult to find space to park and to make a place for yourself in the sand.
But if you have chartered a boat, the experience is remarkably different. You can access the small bay that forms the cove, anchor your yacht or your sailboat and enjoy from there the music that recharges energy to all those present. While you listen to the beat of drums, timpani and the movement of those who dare to dance, you will live one of the scenes that reminds us of the purest hippie essence of Ibiza in the seventies.
Live the hiking and full nature And if what you prefer is to explore those more remote corners, at Benirrás beach you can do some hiking. Venture to take the mountain route on the left bank. If you go far enough, you will come across some of the best views of your traveling life.
And for an extra touch of adventure, at Benirrás beach you can also go snorkeling. Go diving to the cliffs of the mountains, to discover original species of the island's marine flora and fauna.
Good food … You can't miss it!
And as is to be expected, in Ibiza you eat very well and Benirrás beach is no exception. If you want to get off your boat to walk a bit on the sand and enjoy a delicious lunch, you will find options for all tastes.
If you bet on local, autochthonous and homemade flavors, you can visit Restaurant 2000. It is a traditional place, maintained by a family of fishermen. They stand out especially in paellas. And if you are looking for a more sophisticated option, the Elements restaurant has an interesting menu of Mediterranean food, as well as an excellent massage service.
Shop at the typical flea market
And if you are one of those who love to bring souvenirs, the typical hippie market is one of the most picturesque attractions on Benirrás beach. You find it right at its entrance. Of course, they do not work every day, so check before you go. On Sundays, you are sure to find them.
More than twenty stalls have been organized in this market, where local artisans offer their products: bracelets, earrings, necklaces, clothing, island souvenirs, bags and leather belts. It is an adorable corner to buy a special detail that will always remind you of your visit to Benirrás. Without a doubt, the white island is a true vacation paradise, and if you decide to travel it on a nautical charter, you will see the most exclusive and luxurious of its facets. If you want to take a look at the places you could enjoy, don't miss this selection of the best routes to explore Ibiza by boat.