Without a doubt, Ibiza is one of the best beach options to live unforgettable days. There are many destinations that you can visit on the White Island. But if your idea is to live a luxury vacation in a nautical charter, it is well worth spending one or more days to discover Formentera, the smallest of the Balearic Islands.
Although it is a very small island, its natural charms, unforgettable sunsets and gastronomic offer, make it a dream destination. If what you are looking for is to forget about work, mobile and routine for a moment, and enjoy sailing in the Mediterranean, this option will enchant you. To get to know Formentera, the most convenient thing is to leave from your boat in Ibiza. Marinas like Marina Ibiza are usually good starting points.
Before starting this tour of the most beautiful places to visit in Formentera, remember to pack your camera, because landscapes of sea, sand and dunes are what abound. Are you ready to set sail? Let us begin!
Touring Formentera: The best stops
The Islet of Espalmador
If you have already defined that you want to live your vacation with the luxury you deserve, and launch yourself into sailing Ibiza and Formentera aboard the boat of your choice, you have to stop at the Islote de Espalmador! From Las Salinas beach you can reach this paradisiacal natural reserve, which can only be entered by boats or yachts.
What we highlight the most about the islet is the perfect transparency of its waters, which is charming. To the south we find the most famous beach: Playa de S'Alga. If you get there, you can take a comforting mud bath, one of the most popular activities in the area.
And if you plan to spend the whole day on the islet, a good idea is to request the catering service or even a private chef for your boat, and have lunch with the Mediterranean landscape. Remember that this territory is virgin so you will not find restaurants.
The beaches of Illetes and Llevant
After this first stop at the Islote de Espalmador, we recommend that you continue navigating through other parts of the island that are quite an experience. Approaching the Es Trucadors peninsula, you find a long and gentle sandy area: Illetes Beach. Just a few meters away, Llevant beach appears.
Separated by a chain of dunes, these beaches are a real treat to behold. If you anchor your boat and go down to take pictures from the dunes, you will see the contrast between the landscape. The calm waters and the agitated ones that coexist side by side.
This is an ideal point to stop for a while. You will also find very good options for local gastronomy, with fish, seafood and the most exquisite dishes from the sea. Restaurants like Juan y Andrea, Beso Beach or Es Ministre can be good options.
También, si lo prefieres, puedes contratar algún restaurant que sirva sus platos directamente en la embarcación.
The Cala Saona
Continuing on your navigation to the south of the island, you will find the largest cove and one of the most famous. It is Cala Saona, an almost virgin paradise, which emerges between two cliffs covered with pine trees. It has some restaurant and hotel services, and it is undoubtedly one of our favorite spots in Formentera to contemplate the sunset.
Es Cap de Barbaria y la playa de Migjorn
If you continue on your route to the south of the island, your boat will take you to Es Cap de Barbaria, the southernmost cape, where we find the legendary lighthouse of the same name. If you count yourself among the history-loving travelers, an interesting option is to go to the monolithic settlement that you will find very close, and in which you will be able to see history itself before your eyes.
On the same route, you will come across Migjorn beach, bathed in dunes of fine white sand, and one of the largest in Formentera. This immense sandy area extends to the cliffs of La Mola, where you can appreciate landscapes that remind us of the perfection of nature. Imposing stone walls will guide your way, while the Captain of the boat is in charge of taking you on a good route.
The town of Es Caló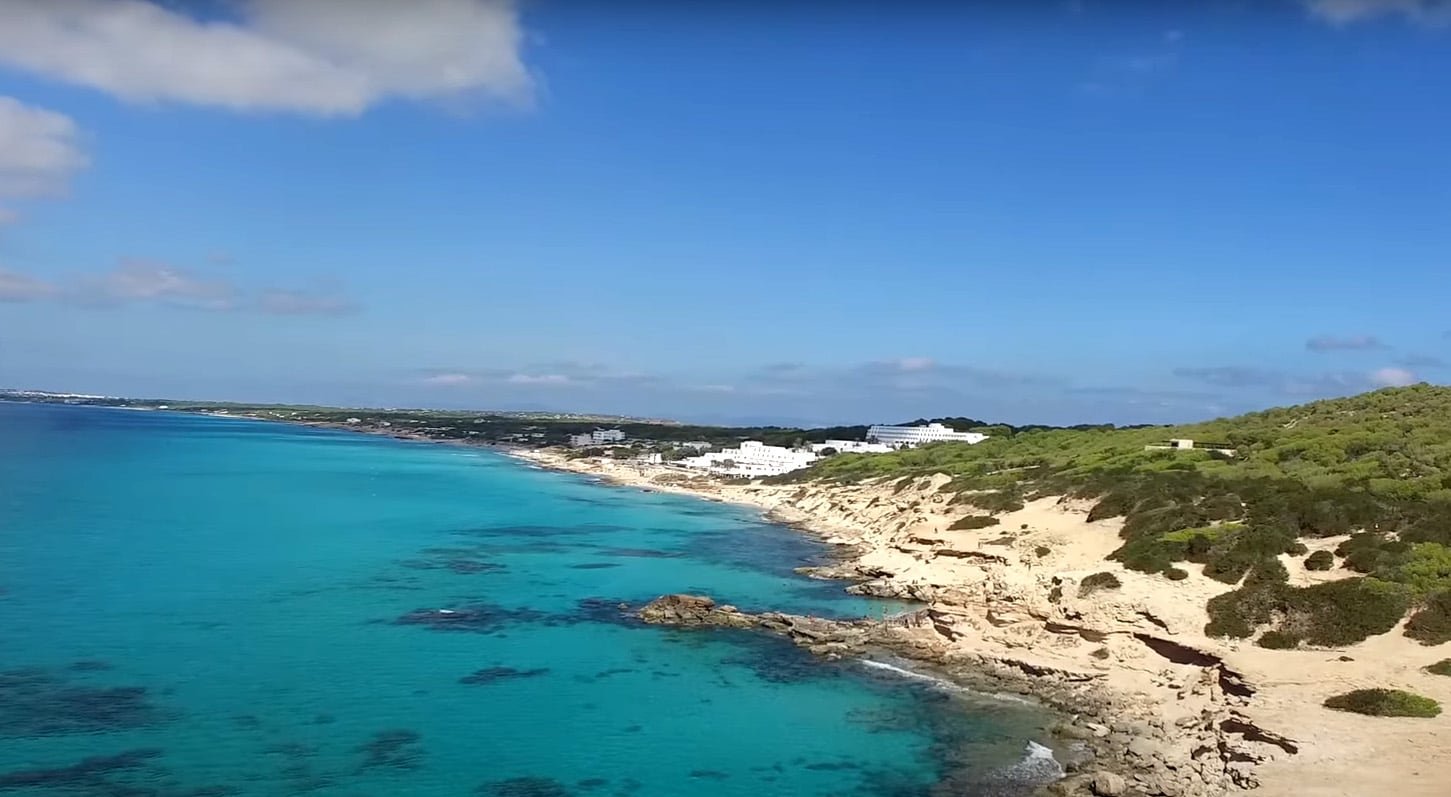 Another charming point that is well worth visiting if you are sailing through Formentera, is the picturesque town of Es Caló. It is a fishing village, full of small coves, typical traditional houses and a charming wooden walkway to walk at sunset.
The smallest of the Balearic Islands is a destination that offers amazing landscapes, magnetic corners, infinite sandy beaches, transparent waters and very good gastronomic options. If you bet on luxury and experiences to have an unforgettable vacation, a nautical charter that takes you to explore Formentera, you will love it.