The White Island of the Mediterranean has a charm that fascinates those who know it, but there are different ways of living it, knowing it and enjoying it. If you aim for luxury and maximum comfort, luxury yachts in Ibiza will be the option that best suits your traveling style.
Whether you count yourself among the fans of nightlife, to know the best restaurants on the island, or even you are interested in having a chef at your service while you sail the sea … the options are adapted to your tastes, so that you have the vacation that you deserve.
Among the luxury yachts in Ibiza, you will surely find the boat that fits perfectly with the way you want to live your days of enjoyment. From spacious yachts, with cabins full of windows, exquisite decoration and a jacuzzi that invites you to relax, to others that incorporate nightclubs, jet skis and other accessories for fun.
If you have chosen to have a VIP experience sailing in the waters of Ibiza and Formentera, take into account these series of suggestions, which will surely come in handy for you.
The best tips for a luxury experience in Ibiza
Select your yacht very well
Going to the White Island in summer is synonymous with enjoying amazing views. Not only the natural landscapes capture the attention, but the fantastic luxury and glamor of yachts, sailboats and catamarans.
According to how you are planning your trip, you will find different luxury yachts in Ibiza that adapt to your expectations. Is your walk a romantic getaway? Is it a family trip? Or rather a vacation with friends or partners?
Accordingly, you will be able to see which yacht is the best for you, according to the luxuries you want to give yourself. Jacuzzis, indoor or full sun pools, spacious, comfortable cabins with ocean views, meeting areas, kitchen areas, discotheques, jet skis, and even helipads.
Safety is another issue to highlight, since boats are usually at the forefront in privacy and security measures, so that you live your trip with total confidence and relaxation.
Onboard services
Part of what defines a luxury experience are the services that complement the rental of your boat. If you count yourself among those who are passionate about good living, you can add an exclusive chef and catering service on board to your vacation days.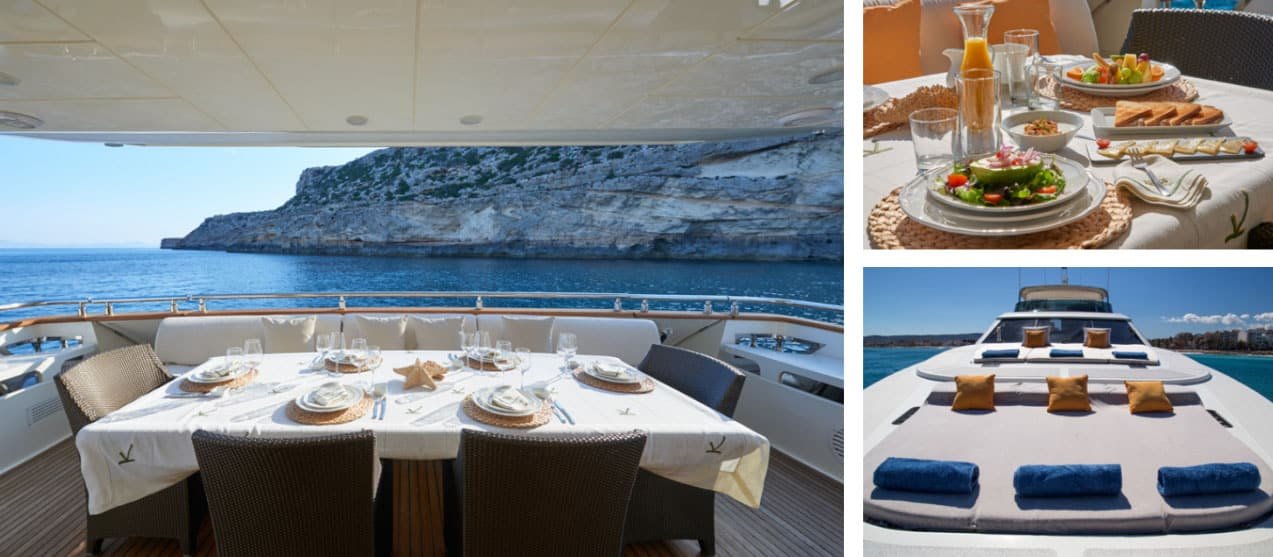 Are you a seafood lover? Of the American breakfasts? From exotic fruits or brunches full of energy and nutrients? If you add this service to your vacation days, you will have a team of professionals specialized in providing you with the comfort and pleasure that your stay deserves.
Luxury experiences when getting off your yacht
We understand that, by hiring a nautical charter that takes you to spend one or several days aboard the one you like best among the luxury yachts in Ibiza, it will be difficult for you to want to get off the boat.
With fun, attention and guaranteed landscapes, Ibiza from the water can be a fascinating experience. But if you also want to take advantage of other attractions on the island that are truly VIP, here we recommend some.
We started with the most glamorous port in the area. It is about Marina Ibiza, a place where you can breathe luxury and comfort, and where you can enjoy the view of the most extraordinary boats in the region. Just fifty meters from the port you will find the Casino, which is the perfect stop for those who want to have a little fun tempting randomly.
And if you are one of those travelers for whom gastronomy is a separate point, two options are ideal to complement a perfect vacation.
If you like party and fun, Lío de Pacha Restaurant and Cabaret will be your favorite. Its permanent festive atmosphere and the exquisite quality of its food will make you adore it.
Yes! It is usually full in summer, so it is best to make your reservation well in advance.
And if you rather bet on quiet plans in which you can fully enjoy the delights of the sea and the landscape, a great option is to sail your yacht to the paradisiacal beach of Illetes in Formentera.
In addition to being the most beautiful beach in Spain, it is home to the Juan y Andrea restaurant, which is advertised with a trail of palm trees. Prawns, clams, anchovies, squid, mussels, octopus and lobsters are some of the Mediterranean dishes that you will enjoy, with your feet sunk in the warm beach sand.
Renting a luxury yacht in Ibiza is giving yourself the time, quality, glamor and comfort that you and your guests deserve. On the white island of the Mediterranean, fun and pleasure are guaranteed.